The Goal
In 1984, Eliyahu M. Goldratt published The Goal, a ground breaking Business Management book, which introduced readers to the theory of constraints. Using detailed analysis of an industrial plant's manufacturing process, the book's characters identified efficiency bottlenecks, implemented changes and measured the results. The outcome was a continual cycle of improving product quality, higher yields and, ultimately, increased profits.
What you have learned is that the capacity of the plant is equal to the capacity of its bottlenecks.
– Eliyahu M. Goldratt (The Goal)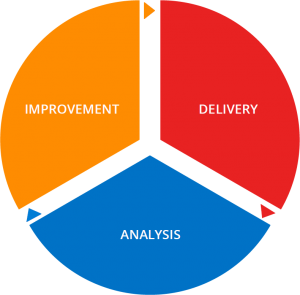 All businesses can be defined by one or more processes, by which they deliver their products/services. Financial Planning business are no different.
The diagram below illustrates a simple but powerful reality. I.e. business profit is really only influenced by the following variables (levers):
Number of new opportunities (pipeline capacity)
Time to deliver advice (pipeline length)
Conversion of new opportunities
Cost of work done
Average revenue per won opportunities
By measuring performance of the existing process, bottlenecks can be identified and improvements implemented. Through our powerful business intelligence analytics reports, FinPal's financial planning software can help you improve business profitability.
Download our complimentary whitepaper for a more in depth look at increasing the profitability of your business.
Maximise your profit
Download our complimentary white paper for a more in depth look at increasing the profitability of your business