Keeping up with the ever-changing world of financial services compliance at times feels like a game of acronym twister.
Financial services guides (FSG), fee disclosure statements (FDS), ongoing advice service agreements (OASA), best interest duty (BID), continuing professional development (CPD) are just a few of the many obligations that Australian financial advisers must be able to monitor and report on.
New Zealand's financial advice provider (FAP) regime, despite only being at version 1.0, imposes many similar requirements on New Zealand financial services professionals and will likely be subject to the same endless "tweaking" Australian financial advisers have enjoyed over the past few years.
It's always so attractive to be able to do good at somebody else's expense ― Milton Friedman
While not questioning the well-meaning intent of these obligations, an inevitable consequence was/is the increased cost of running a financial planning business and, therefore, the cost of advice for the end consumer. Since 2018, Australian Financial Advice fees have risen 28% (from $2500 to $3240).1
The primary reason managing compliance is such a complex and costly exercise is because of the large amount of data that needs to be obtained and analysed. An annual service agreement, for example, requires knowledge of the following:
Start/end date of annual service period
Actual fees received over the past 12 months
Fees expected to be received during the next 12 months
Accounts from which revenue is being paid and how much is being paid from each account
Details of each client and account owners (including related entities such as trusts)
It is not difficult to see how the time required for preparing this single document could easily result in hundreds of dollars additional cost per client every year.
Thankfully, there is an alternative. Business technologies and platforms from companies such as Microsoft, Adobe and DocuSign, provide powerful data management capabilities while simultaneously being affordable for even the smallest business.
A well architected and integrated CRM, overlayed with the requisite business discipline, makes it possible for financial services businesses to capture and store all the data needed to meet their compliance obligations. Workflow automation tools such as Microsoft Power Automate and data analytics tools such as Microsoft Power BI enable Australian AFSLs and New Zealand FAPs to automate much of the tracking, reporting and disclosure required to meet their regulatory obligations.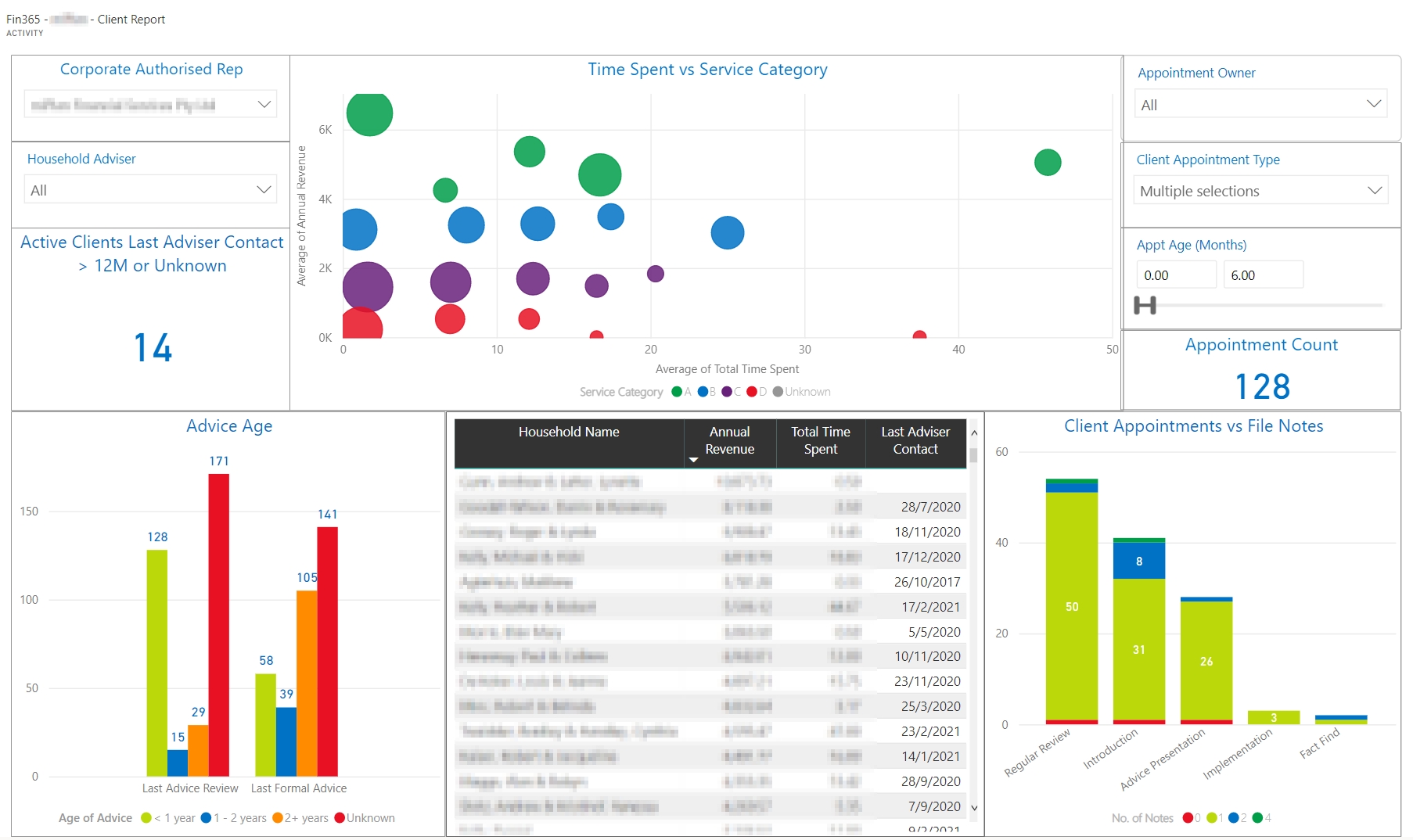 Fin365 Client Activity Business Intelligence
Fin365's customised version of Microsoft Dynamics CRM was built by Australian financial advisers to help counter the complexity and costs resulting from the ever-changing regulatory requirements. Since launching in 2017 we have expanded our customer base to include New Zealand, South Africa and the USA.
Our solution installs directly into each customers Office 365 environment, delivering all of the efficiency benefits of integration with other Microsoft applications such as Outlook, Teams, and SharePoint, as well as providing peace of mind about data ownership and security.
Fin365 customer locations
About Fin365
Fin365's innovative software solutions enable financial services businesses to deliver better outcomes to more clients, more efficiently.
Leveraging the power of Microsoft 365 enterprise technologies, we've added the necessary ingredients and integrations to turn these powerful tools into instantly useful solutions that deliver tangible benefits for your business.
You can test drive Fin365 here or contact us for a complimentary demo