No doubt about it, fintech is officially cool. A recent report by KPMG1 estimates investment in Australian fintech sector has risen to US$675 million and lists 579 Australian Fintech start-ups. But what does Fintech mean?
A recent study2 found "what is fintech" ranked 8th on Google's list of most searched queries related to fintech and concluded "There is currently no consensus about what the term Fintech means"
I'll leave it to academics to cogitate the big questions. I'm much more interested in (and excited about) the benefits it will deliver for advisers and their clients.
A solution to a problem
Research shows only 20% of Australians seek advice from a financial planneriii and yet 80% of Australian retirees rely, at least partially, on the Age Pension4
Such alarming statistics should be a call to arms. Unfortunately, the high cost of delivering advice has resulted in most advisers gravitating to the more profitable clients, leaving most Australians underserved.
In his book "The Innovator's Dilemma", Clayton Christensen outlined the environment that inevitably leads to business disruption. Even if you're not familiar with the concept of disruption, the explosion of fintech likely does not surprise. Our industry has been ripe for disruption for many years. What is likely to surprise many, however, is the impact it will have on traditional business models.
Data driven disruption
"War is ninety percent information." ― Napoleon Bonaparte
Current commentary usually highlights robo-advice as the disruptor. But robo-advice is really just a visible, and rather simple, application of a significantly more powerful disruption.
Putting aside the human element for a moment, financial advice, at its core, is an exercise in data handling. Advisers capture, store, analyse and act upon data. Historically this has been a very manual exercise. Emerging technology will largely automate data management and provide advisers the tools required to deliver a more compelling experience, to more clients at reduced costs.
Initially the capability of these tools may limit their usefulness to simpler advice. But over time, more complex scenarios will be supported allowing the disruption to move up the value chain.
An ecosystem
One of the reasons disruption has taken so long, is because previous software systems were largely closed and monolithic. Soon, an ecosystem of complementary technologies will seamlessly connect to deliver new features and capabilities. For such an ecosystem to develop, a big picture, cooperative philosophy is needed. Historically, this has been lacking in our industry. Thankfully change has arrived, as demonstrated by the emergence of organisations such as Fintech Australia which, at time of writing, has 175 members.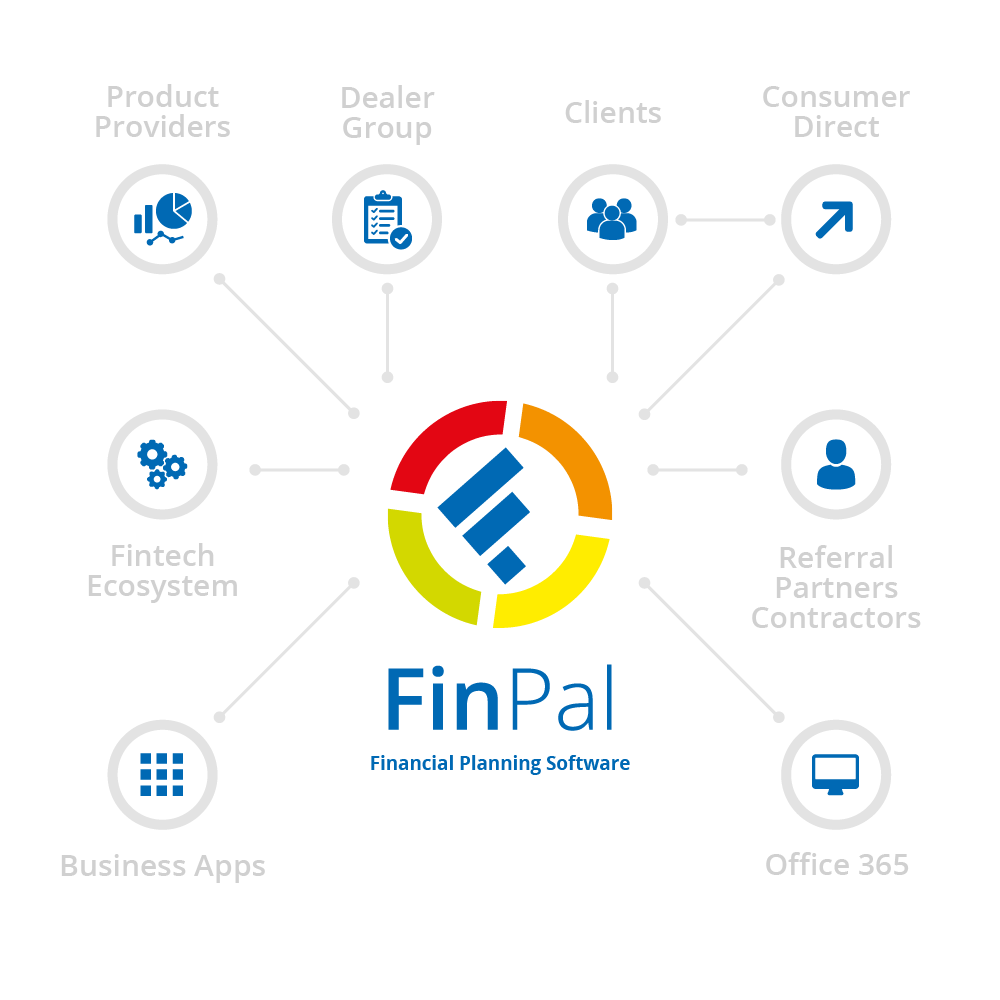 A foundation
To be ready, advisers need to make sure they have the right foundation in place. Keeping in mind it's all about the data, the following should form the core of you financial planning software system:

> An enterprise grade CRM
> Data security, redundancy and ease of migration
> An ability to customise and scale as business needs evolve
> Interfaces (APIs) for easy integration with other systems/technologies
> Real-time Business intelligence (BI) reporting

After reviewing a variety of options for our advice business four years ago, we chose Microsoft's suite of business technologies. It ticked all the boxes and, thanks to their ongoing investment, continues to do so. It now forms the foundation of FinPal's financial planning software.
A necessity
Disruption of our industry has arrived. To thrive in this new world, financial planners will need to equip themselves with better technology. Regardless of your decision, the choice offered by a thriving fintech ecosystem and the ability to transform your business should excite all advisers.
References
KPMG Australian Fintech Landscape – KPMG Website – August 2017
Taming the Beast: A Scientific Definition of Fintech – Patrick Schueffel – Journal of Innovation Management, Dec 2016
80 per cent of Australians do not currently use or intend to use a financial planner – Professional Planner, May 12, 2016
A super fail: 80pc retire on pension benefits – The Australian, August 26, 2017